Car Locksmith Phoenix AZ. Car lockouts are never convenient but, Mr LockOut does make getting back into your vehicle fast and easy. For a Locksmith Services in the greater Glendale Phoenix area who you can trust call us. We handle residential and motorcycle locksmith needs as well. Don't trust the continued safe operation of your vehicle's doors to just anyone who says they can open your locked doors. You need the experience of a qualified automobile locksmith that can open your locked door without doing any damage. Since we are a Mobile Auto locksmith we cover the entire Phoenix Service Area. Depending on the make and model of your car or truck any of several methods might be effectively employed to gain access. For a Safe Reliable Car locksmith Call us today.
A "slim jim." While most people usually first think of this device it may not be the proper tool for entry into your vehicle. This can safely only be used with cars that have an upright style of lock. Even then it must be used carefully so as not to damage any wiring or electronics that are housed within the door panel. When the slim jim was first designed the door panels were mostly empty other than the locking mechanism and the windows. This allowed for just about anyone to operate it usually without any damage to the vehicle. Such is not the case today. We have everything from alarm wiring to stereo speaker wiring running within our doors. Much care is needed whenever a slim jim is to be employed.
Door Wedges. These will vary in size and shape even in the materials used to manufacture the wedge. The use of this device has a long proven safe history. It allows for a gap to be created safely so that additional tools can be used to access the locking mechanism. Either a lasso tool to grasp the upright lock of the door or a rod may be utilized that can push or slide should the vehicle not have an upright lock.
Specialized tools can also be used that have been designed for cars such as Japanese manufactured cars and trucks.There are even special tools designed specifically for GM cars.
Car Locksmiths Phoenix AZ
Our car locksmiths are able to completely change out, repair and or replace all your car's locks to ensure your safety and security. We will do this quickly and affordably. Car Locksmith Phoenix AZ can quickly and affordably complete the following services.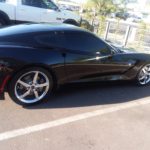 Car Key Replacement or Duplicate car keys or car key replacements may be needed for a variety of circumstances. Our automobile locksmiths in Phoenix AZ are experienced and qualified to create new keys for your car if and whenever needed. Even if you don't have a key to be copied from. A key code machine can be employed that will create an exact match of the original key by cutting a new key using the existing code for that particular vehicle be it a car or truck. This is most often a very quick process but, time will vary depending on the complexity for your individual vehicle.
Car Keys Locked In The Trunk
Car Keys locked in the trunk can happen to anyone and at anytime. Should this happen to you don't be overly concerned. The professional locksmith with Mr LockOut will retrieve your keys quickly. With most vehicles this is quite similar to having your keys locked inside of your car. Our locksmith most often will access your vehicle's interior then operate the manual truck release. If your car has a security feature that prevents this type of entry then we still be able to open your trunk and get you back on the road. But due to the additional security feature your car has it will require a few additional minutes to get you back into the driver's seat.
Duplicate Car Keys
Duplicate car key cutting uses the existing key as a guide with a key duplicator. This is different from the above process as there is more hands on with the locksmith who needs to manually cut and shape the key to be used. This procedure requires both training and experience.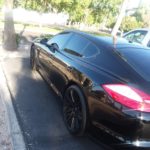 This is actually an area that a clerk at some big box store just doesn't possess.
Key Fob Replacement
Key fob replacement can only be done safely by an experienced auto locksmith. The key fob began as a luxury item that allowed the car's owner to easily lock or unlock the doors and or trunk. This measure was an addition security feature. And allowed easy access to the vehicle and security that the vehicle was completely secure. The owner no longer had to check each and every door to ensure that it was completely locked tight.
Key fobs are well beyond the simple function of locking up your car's doors. Some key fobs now allow for remote ignition of the vehicle prior to the owner actually entering into the car itself. If this malfunctions you will neither be allowed access into your car nor will you be able to operate the ignition system. If lost or stolen a thief can easily drive away with your investment.
Mr LockOut's trained auto locksmiths have the ability and equipment to safely and quickly reprogram your vehicle's computer to allow for any type of key fob to be replaced. This could be the latest remote ignition vehicle starter or the older versions that simply secure your car's doors.
If you have ever allowed someone access to your vehicle and now you are concerned about theft because of a strained relationship or disgruntled former employee we can quickly and affordably prevent nay unwanted access to your vehicle by changing the programming of your fob. This could very well prevent you from having your car or truck stolen. Call us today. We are here to help you anywhere within the greater Phoenix area.
Transponder Key Programming
Due to high vehicle thefts transponder chips began to be installed. This provided much-needed security for the vehicle's owner but, required additional education and special tools for the automobile locksmith. Mr LockOut was one of the first mobile locksmiths in the Phoenix AZ area to complete the training required and to own and operate the additional equipment needed to help its customers.
Transponder key programming helped prevent "hot wiring" and "slide hammer thefts" With the proper chip coded to the key and the car even a key with the proper cut would not start the ignition. An electronic signal must match both the key and the vehicle or the vehicle will never start.
Each locksmith with Mr LockOut has the proper training to both cut an exact match of the key and to correctly program the chip for the key and the car.
Car Key Extraction
Car key extraction generally is required whenever a key jams with in the lock preventing it's removal or when a key breaks inside the locking mechanism itself. This can either be in the doors, trunk, or the car's ignition. You need to have any of these issues dealt with immediately. Particularly if it's an ignition issues as this could actually cause your battery to drain.
To remove the key our automobile locksmith will first most likely apply a proper lubrication to the device preventing further damage. Then they will use a device aptly name a "broken key extractor." The use and function of this device, when operated by a trained auto locksmith, will remove the jammed or broken key quickly and most importantly, safely. This tool allows a properly trained technician to "hook" the broken key and once hooked the key is prevented from going further down into the cylinder. The broken piece is then extracted from the lock. A "probe method" may also be employed depending on the specific need. This will require the use of two tools to first grab the key part then pull it free.
Ignition Cylinder Replacement
Ignition cylinder replacement may be needed for any number of reasons. Some common issues surrounding this are:
Vehicle will not turn over to start. This could be caused by worn pins within the lock cylinder. This may cause your vehicle's anti-theft system to operate and prevent ignition.
Engine will not crank even if the key works in the ignition. Usually this will be a problem with the switch to the ignition.
Engine cranks but, fails to actually start the car. This could be a problem with what is called the receiver in the ignition system.
Vehicle starts and then dies as you are on the road. This problem may seem to be due to an engine failure of some sort but, may be caused by a worn out ignition switch.
Replacement of an Ignition Switch
Car Locksmith Phoenix AZ replacement of an ignition switch requires that the locksmith is trained and experienced in automobile locksmith techniques. The actual ignition switch technically in and of itself is not a lock but, it does determine if your actual lock is functioning correctly or not. Due to the fact that this is an important and integral part of the ignition locking mechanism our team of vehicle locksmiths are trained to trouble shoot these areas to determine the exact problem. It may seem to be a problem with the actual cylinder of the lock but, it could very well be an issue with the electronics. That prevents the car's starter from making the electronic connection that in turn starts the car.
Re-key Ignition
Our professional Car Locksmith Phoenix AZ are able to re-key your vehicle's ignition system. Ignition system re-keying is a procedure where we change the mechanical components within the lock so that a new key is required to work the mechanism. Vehicle owners may require this procedure if either of the following is happening:
The car keys have been misplaced or stolen and there is a possibility of theft of the vehicle.
Some cars and trucks have one key for the door and a separate key for the ignition. Should they want to only carry one key for that vehicle it is less expensive to change the ignition rather that change all the door locks to fit the one key.
Mr LockOut AZ
Family owned and operated since 1998. We are an honest affordable Car Locksmith Phoenix AZ. Require a Motorcycle Locksmith, Home Service Locksmith? Call us today for a free quote.
Mr Lockout
Glendale, Arizona 85310
Phone: 602-841-6003
Mon 7:00 am – 10:00 pm
Tue 7:00 am – 10:00 pm
Wed 7:00 am – 10:00 pm
Thu 7:00 am – 10:00 pm
Fri 7:00 am – 10:00 pm
Sat 7:00 am – 10:00 pm
Sun Closed