Mobile Auto locksmith Phoenix Glendale. Need a Mobile Auto Locksmith? Keys locked In the Car Phoenix Glendale? Left Your Keys In The Car or What should you do…if you get locked out , particularly when you are at some remote place? Can't get inside your ride? No problem! Have you lost the keys to your car with no spare set? Misplaced your vehicle key(s) either transponder or remote fob, or have they been locked inside your vehicle, or were they locked in your trunk? Have they been stolen and you don't have a spare set to access your vehicle? Keys locked in automobile who to call? Don't Panic! Call Mr. LockOut! We are the Mobile Locksmith Near You in the Phoenix Glendale AZ Area.
Mr Lockout LLC Locksmith specialize in on-site manufacturing of car keys for all years, makes and models, including high security vehicle locks. Your car may have a small computer chip in it. This is called a 'transponder' key. With these types of extra value security keys the computer chip sends a signal to the vehicle's ignition system allowing the car to actually engage and start.
Reprogramming Transponder Keys
A transponder key set works in connection with your car's ignition system keeping your car safe and secure from most thieves. Whenever the transponder system within your key set malfunctions please check with us to determine if your key might be reprogrammed. A transponder key may at times be re-programmed rather than replaced, thereby saving you money. Our expert locksmiths are here to serve you. And that honestly means saving you money whenever we can.
Reprogramming transponder keys can be somewhat of a delicate task if you are attempting to do it by yourself. Every type of vehicle does possess it's own unique process pattern and transponder programming methods. You will be required by the system to possess the precise information as that information relates to your auto's ignition system and none other.
When your misplaced keys are capped with a plastic head this will most likely be a transponder key. Otherwise the key(s) will be completely made from metal. When you are not exactly sure which type of key your automobile requires just give us a call and we will be able to determine which type of key and locking system you have over the phone. We will then be able to give you an exact quote over the phone.
Pricing for automobile keys will vary from vehicle make and model. You will always know in advance the cost of our locksmith services before we arrive to get you back on the road again.
In these situations it is best to get the experienced qualified help of a licensed bonded vehicle locksmith. Mr. LockOut will dispatch a Licensed Bonded Automobile Locksmith to help you with the misplaced keys, misplaced transponder keys, extra keys, keys left inside the car, stolen keys, damaged locks or broken keys. Our Mobile Locksmith team is qualified and experienced. Family Owned and Operated. Serving the Phoenix Az Area since 1998.
Ignition System Has Been Damaged
All vehicle ignition systems work in sequence. From the point where you first place the key in the car and turn it to having the engine fire. If anything, happens/or doesn't happen, in between the initial turning of the key and the firing of the engine to prevent your engine from starting you will have experienced some type of ignition failure. This could be a simple fix such as making certain your battery is properly connected but, it could be an indication that your ignition system has been damaged.
If the ignition system of your car has experienced any type of damage chances are we can have you back on the road again quickly. Our Mobile Service Technicians are experts in all areas of locksmithing and that means understanding your ignition system as well as your car's locks.
When you need a locksmith you most likely need them fast. When you've been locked out of your transportation, misplaced your house key, or need a lock re-keyed we will help. Mr Lockout mobile service technicians are each Certified to handle your every need. Our locksmiths cover the entire Phoenix Glendale Metro Area, and locksmiths are always on the call and ready to serve you quickly and professionally, it doesn't matter where you are in the Greater Metro area.
Certified and Professional
Each of our locksmiths are certified, professional, bonded and insured. In addition they each have years of hands on experience as locksmiths. You can be sure that the person working in your home is reliable and professional. Dedicated to servicing your every need in a quick and reliable fashion. With no "up-selling" and never any unnecessary charges.
Lost Keys:
Mr. LockOut's Car Locksmiths will help you with lost keys in the same way as can a car dealer. The benefit of receiving the services from a Mr. LockOut locksmith is that we can come to your car and help you instead of towing the car to a workshop. Also, a car locksmith from Mr. LockOut will give you the new car keys at the same time, on-site, and at an affordable price. This is done by cutting to code from the car's door. Your new key will be a perfect fit because a Mr. LockOut locksmith uses a portable key cutting machine along with computer software.
Stolen Keys:
If at any time you car keys have been stolen, you should inform the police as soon as possible. Then Call Mr. LockOut! We will send a vehicle locksmith directly to you who can wipe out the key combination in your car's immobilizer box. This will remove the previous lock code then our locksmith will provide you with a new safe combination.
Lost Transponder Keys: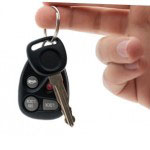 It is possible to open the cars with a transponder key if the car comes with an immobilizer system. Once this is done, a new key is set up to work with the immobilizer box. Our Mobile Auto locksmith can help.
Spare Keys:
Even if your car keys have not been stolen, it is advisable to always have a spare one with you. A Mobile Auto locksmith from Mr. LockOut can easily make a spare key using computer software and proper machines. Remember, our Mobile Locksmith comes to you directly. No need to go to a shop. Our qualified Master Locksmiths have years of experience in getting the job done correctly the first time. Every time.
Damaged Locks:
If the lock of your car has been damaged, a Mobile Auto locksmith from our Company can get remove the old damaged lock and replace it with a new one.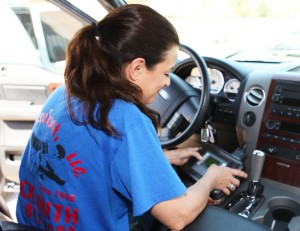 Mr. LockOut Locksmiths can service both door locks and ignition systems.
Broken Keys:
Keys Locked in the Car or in case your car key breaks inside the lock, a vehicle locksmith from Mr. LockOut can extract the key and create a new replacement key or change the lock itself, on the spot.
What other lost vehicle keys can a auto locksmith from Mr. LockOut help you with?
It's not just car keys! The Mobile Locksmiths from Mr. LockOut will be able to help you with lost motorcycle keys, vans keys, truck keys, and even keys for Semi Trucks! Family Owned and Operated. Serving the Phoenix Glendale Az Area since 1998.
Our Car Locksmiths use only high quality keys, locks and installation of every security device is completed as if our own lives depended on it! Mr. LockOut provides free quotes and we always stick to that price. If we discover that additional work needs to be done we will discuss this with you prior to doing any additional work. Our locksmiths never do extra work nor do we up-sell our clients. Whatever your locksmith needs are you don't want to worry over price.
When you need to recover the keys locked inside your vehicle you know who to call. Mr. LockOut AZ. Serving the whole of Phoenix metro AZ area. Our Mobile Locksmiths will be dispatched to your location as soon as we receive your call.
Mr Lockout
Glendale, Arizona 85310
Phone: 602-841-6003
Mon 7:00 am – 10:00 pm
Tue 7:00 am – 10:00 pm
Wed 7:00 am – 10:00 pm
Thu 7:00 am – 10:00 pm
Fri 7:00 am – 10:00 pm
Sat 7:00 am – 10:00 pm
Sun Closed
RELATED LOCKSMITH ARTICLES