Mr Lockout is a full service Residential Locksmith in Phoenix AZ. We offer experienced qualified
car locksmith
services as well as, motorcycle locksmith. For all your locksmith needs home, or office. Do you need a reliable locksmith in the Phoenix Metro Area? Our Mobile Auto Locksmiths are there whenever you need us.
.
Residential Locksmith Services:
Key-less Access Systems Including Control Panels
Lost key replacement
Master keys (Installing new locks for your home with one key)
New locks installation
Removal of Broken Keys
Re-key of existing home locks
Residential Locksmith Interior Exterior Services

Creating New Keys For All Home Locks  
Creating new keys for your existing home locks is a simple enough and straight forward task for any experienced Residential Locksmith. All Mr LockOut Technicians have the knowledge and proper tools to do this on-site. The job will be done probably sooner than you'd expect. Satisfaction guaranteed.
Deadbolt Repair – Installation 
Dead Bolt Locks
can be an additional security option for your family. These types of devices are much more difficult to open by thieves. All except the professional burglar. Virtually impossible to pry open like an ordinary cylinder lock mechanism. If damaged or worn by age and much use it may become difficult to operate easily. If a simple repair is not an option we most often would recommend replacement and installation of a new device. Every dead bolt has pins and tumblers that allow it to function correctly. Repairs to these usually cost more than the cost of a new lock including installation.
Door Knobs – Handles, Repaired – Installed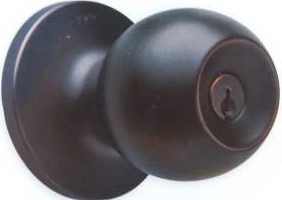 There are literally thousands of
door knobs and door handles
available for today's homeowner. Mr LockOut can repair or replace any type of hardware you choose. As with the dead bolts above it may be less costly to you to have our locksmiths replace your older knobs and handles with new models.
Door Peephole Installation
As a child growing up I once saw a movie where the villain was stopped by the hero because the hero was tipped off to the plan by peering through a secret peep hole in the door!
Door Peephole
Installation is a straight forward operation and allows for you or any member of your residence to see exactly who it is on the other side of the door prior to opening it. We highly favor this simple security device for every residential area.
Garage Door Locks
Garage door locks
are somehow often overlooked by nearly every Residential Locksmith and most homeowners alike. Perhaps because the garage has such a large profile exposed to the street. Most honest hardworking people don't realize how brazen criminals are and even a closed garage door may provide easy entry in a residential setting if the garage is not properly secured. Mr LockOut has the equipment and expertise to provide your home with the best locks available that will fit your homes needs.
High Security Locks
All
high security locks
that we recommend have interior and exterior components that have been specifically designed to resist and defend against manipulation from manual or machine driven lock-picking and most decoding security attacks. Security pins now available are the most dynamic example of anti-manipulation components in these pin-tumbler locking devices. Some locks also have components designed to resist key bumping mechanisms and even attempts at high quality key impressioning.
Houses Unlocked 
Residential Lockouts
are more common than what the average person living in a residential area realizes. Our professional locksmiths are mobile which means we can arrive to your home within a very short time after your call to unlock your doors and have you back in the safety and comfort of your home quickly.
House Locks Changed
House Locks Changed
. When choosing a proper door lock there are numerous different types of systems to choose from. One of the biggest mistakes that we see homeowners make is to keep existing locks in place after a residential burglary. This is especially dangerous if you happened to have spare keys to your home in open view. Our Professional Locksmiths have the expertise to advise you on the latest security locks available on the market today. We will assist you in making the correct choice for your homes security.
 New Doors and Locks
New doors and locks
may be a consideration for you if you've recently purchased a residence. The reason is simple because even in a newly constructed residence the doors are not going to be anything more than your average entryway you'd probably find in any local hardware store. Also if you've purchased a home that was previously lived in you have no way of knowing if anyone happens to have a set of keys to any or even all of your doors. The nominal cost of new doors and or locks may save you untold thousands of dollars in the future should you be faced with intruders.
House Locks Re-keyed
Whenever you've moved into a new home you may want to
re-key your locks
. Even with a brand new residence you're never completely certain just exactly who has had access to your home. When you decide you'd like to be sure of your safety please call us and we'll get you an honest estimate that will ensure your families safety against uncertain times.
Mr Lockout AZ can handle any of your Residential Locksmith needs. Thank you and stay safe.
Mr Lockout
Glendale, Arizona 85310
Phone: 602-841-6003
Mon 7:00 am – 10:00 pm
Tue 7:00 am – 10:00 pm
Wed 7:00 am – 10:00 pm
Thu 7:00 am – 10:00 pm
Fri 7:00 am – 10:00 pm
Sat 7:00 am – 10:00 pm
Sun Closed